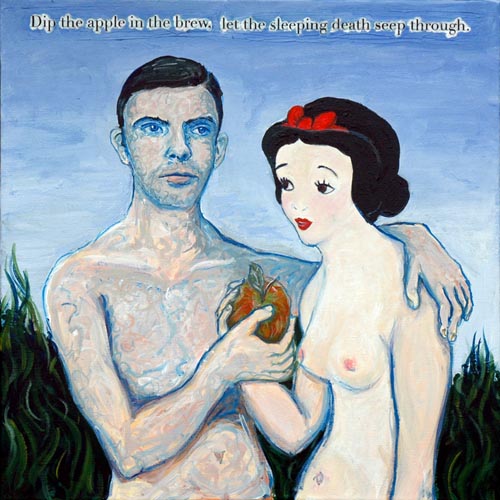 Acrylic on canvas, 510mm x 510mm
Alan Turing is rightly regarded as the father of modern computer science. He was also gay, and suffered terribly at the hands of 1950s British intolerance. After being charged with gross indecency, he was forced to take oestrogen in an attempt to quosh his libido. The side effects included weight gain and the development of breasts – a dreadful result for a world class marathon runner. Shortly after this time, he committed suicide by eating an apple laced with cyanide.
The composition is influenced by the early renaissance painter Lucas Cranach, the elder from one of his many paintings of the garden of Eden.
I'll be exhibiting this painting in shardcorner on saturday, so please come along and take a look – I'll be happy to discuss any of the work on show.