Sigmund Freud was the founder of Pyschoanalysis, and Wilhelm Reich, once Freud's favourite student, was much respected in his early career as a Psychiatrist, however a rift between them grew as Reich became dissatisfied with Psychoanalysis' apparent inability to actually produce a 'cure' in patients.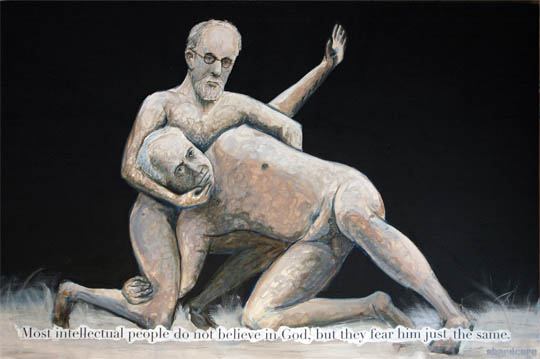 Acrylic on canvas 914mm x 610mm



In this painting, we see Freud and Reich wrestling naked in a mountain of cocaine. Freud was himself a great advocate of the anti-depressant powers of cocaine, and an enthusiastic user of the drug himself. It is therefore somewhat unsurprising that he should be a proponent of such concepts as the ego, when under the influence of pharmaceutically pure 'marching powder'.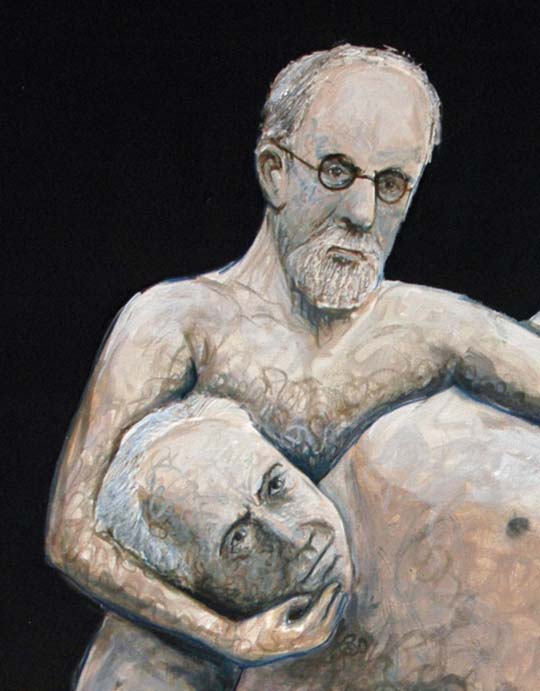 Later in his career Reich became diverted by his theories of Orgone Energy, a force which he believed permeated all living things, and could in fact be harvested with giant Orgone Accumulators for therapeutic purposes. These theories, and the fact that he had once been a Communist, brought him into violent opposition with the political establishment of 1950s America who prosecuted, and eventually imprisoned him. In a rather chilling turn of events the FBI ordered that his books and papers be burnt. Reich died in prison in 1957.

The quote is Reichs, and I believe echos the sentiment of many who have been raised in a nominally Christian society, but have embraced atheism later in life.

Below is a time-lapse recording of the painting process