Follow @thetrumpwatcher
It hardly needs saying, but we live in strange, unpresidented (sic) times. The President Elect of the United States of America, Donald John Trump, is an extraordinary individual, in every sense of the word.
One of his most notable attributes is his addiction to Twitter.
Seemingly without thought or consideration, he delivers bite-sized slices of wisdom whenever he deems fit. Whilst one may argue that this is precisely the modus operandi of the Twitter service, it seems ill-fitting of a man who is soon to command the most powerful country in the world.
Diplomacy is hard. Indeed, his twitter feed has already led to increased tensions between China and Taiwan, and he's yet to enter office.
Since Mr Trump chooses to tweet, it seems worthwhile to investigate what else he's revealing along the way.


This bot parses Donald's tweets, and performs a sentiment analysis to find out his mood. Generally speaking, this form of analysis is best used for larger volumes of text, and tends to be a bit hit and miss on a 140 character tweet. However, Mr Trump uses English at the level of an eleven year old child, which makes things easier.
This sentiment score is turned into an emoji, indicating his mood.
In addition, the bot examines the meta-data of the tweet and assesses the likelihood that it was authored by the man himself, or sent by a member of his team. It is generally accepted that Trump tweets from an Android device, while his team tend to use iPhones. Indeed, at least one member of his staff posts the geo-coordinates along with the tweet, allowing me to neatly create a map of where the tweet originated.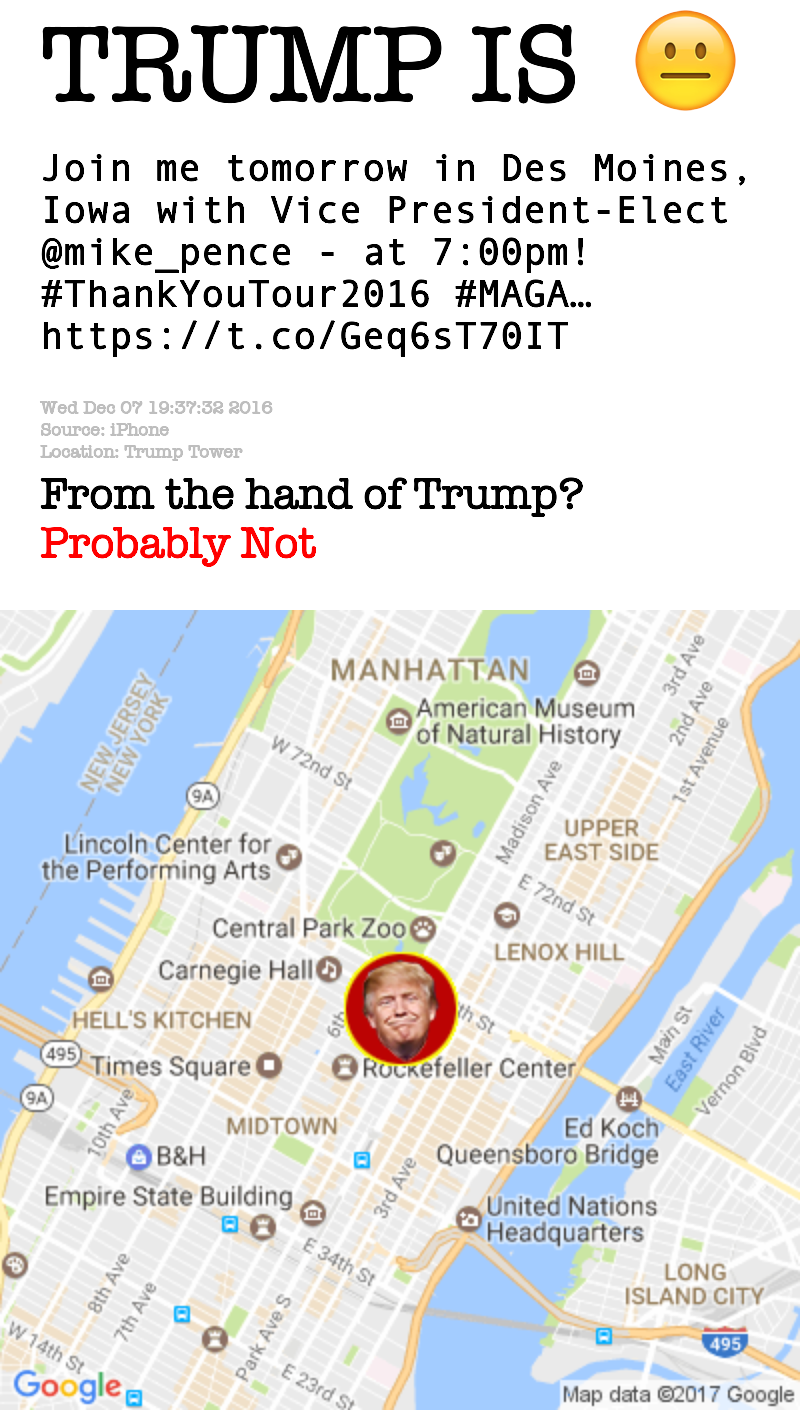 Fake News and Feelings
The term 'fake news' is applied to all forms of information, true or false, depending on political agendas. We are said to be living in a Post-Truth age. As Newt explains below, truth no longer matters, it's all about how people 'feel'

This bot does not try to understand the words of Mr Trump (
a challenge for many
), instead it mathematically analyses his tweets and presents the data in a deliberately vague and emotive manner.
After all, people don't want facts, they just want feelings.
Follow @thetrumpwatcher