Here's the news in 2000ms. This bot scrapes various online news sources for images of the latest stories. These are then glitched and mashed into a video which lasts less 2 seconds. After all, who has time to keep up with current affairs?

Glitch News Network report: 2016-03-02 17:02:03 pic.twitter.com/m2VxGcWVBx

— Glitch News Network (@glitchnn) March 2, 2016
Glitch News works at a
subconscious
level. The flashing images get your brain juiced up for recognition, but it takes a few cycles for the repeating images to get to the point where they can be fully identified by your consciousness awareness.
We are visual creatures, hard wired to recognise and react at astonishing speed, yet we're 'unaware' of 99% of the visual stimuli we encounter.
Often action occurs even before conscious recognition. For example, if someone throws a brick at you, you 'instinctively' dodge (assuming it's in your field of view). In this instant, a phenomenal number of computations are carried out – identifying the brick, calculating it's trajectory, calculating an appropriate response and coordinating your muscles to move out of the way – in fact your conscious awareness of the situation often occurs after this whole sequence has happened.
If we objectively examine our behaviour, the vast majority of our actions are being carried out 'subconsciously', and hence they tend to remain 'invisible' to us, and therefore seemingly of no concern.
Subliminal messages
play on this disconnect between subconscious and conscious recognition. That's how advertising works.
The Glitch News Network perhaps offers a glimpse of the future, where we further disengage from our conscious central executor and merely stream
blipverts
at our subconscious.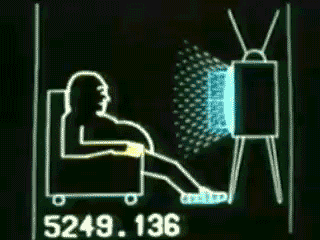 Glitch News is available on Twitter:
Follow @glitchnn
and Tumblr: