Last week it was revealed that The Conservative Party have attempted to erase their historical speeches from the internet.
Understandably, this has caused much scorn, prompting a Streisand effect of drawing more attention to this misdeed.
But the internet never forgets, and the speeches are still available, if you know where to look. Whilst the idea of actually reading this historical record of lies and broken promises is rather unappealing, I have built something that turns them into poetry.
Poems are much nicer than speeches.
Click the image below to create a new poem.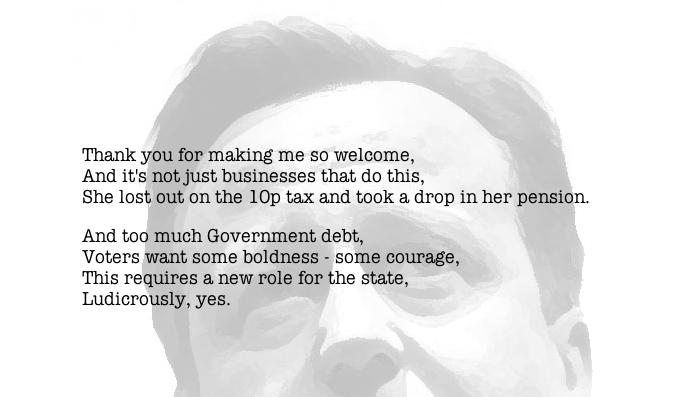 Here are a couple of other poems I generated while working on the project, based on the obvious linguistic idiosyncrasies of the politician:
We will
We will be tested.
We will change that.
We will confront it.
We will reform the NHS.
We will be accountable.
We will protect the NHS.
We will always defend it.
We will be radical reformers.
We will make a start in 2010.
We will do all of these things.
We will be there to protect you.
We will scrap the ID Card scheme.
We will get Britain moving again.
We will create new river crossings.
We will spend more on it, not less.
We will reduce this deficit together.
We will fight that every step of the way.
We will start by doubling that to two years.
We will keep flexible working, and extend it.
We will play our part in breaking the log-jam.
We will be the government for people who aspire.
We will continue our ruthless pursuit of tax evasion.
We will also give our schools the final say over expulsion.
We will give doctors back their professional responsibility.
We will need to make big changes to fix our broken politics.
We will put responsibility at the heart of our national life.
We will be unashamedly pro-enterprise and pro-wealth creation.
We will give the same relief from bureaucracy to our employers.
We will publish every item of government spending over £25,000.
We will more than halve the cost of facility time to the taxpayer.
We will make aggressive tax avoidance more and more uncomfortable.
We will continue to expand cycle hire and plant thousands of trees.
We will want a complete opt-out from the Charter of Fundamental Rights.
We will come out with the mission completed and British heads held high.
or
Promises, Promises
I promise you this.
Our aid promise – kept.
He promised "full employment".
He promised to end boom and bust.
Not a promise of a perfect country.
And he promised three million new homes.
Where are the laws that we were promised?
Every promise he's made has turned to dust.
I'm not going to make promises I can't keep.
So I won't promise things I cannot deliver.
I can promise you – these are lies, lies, lies.
Labour promised they'd do something about this.
Not vague aspirations or vacuous pledge card promises.
You can read my lips, that is a promise from my heart.
And I promise that we will continue to show that resolve.
We were promised Second Reading before the summer recess.
And we've kept our promises to the poorest at home too.
We do not stand here and make the usual politicians' promises.
Think back to those big promises on the steps of Downing Street.
Just as promises on aid need to be kept, so do promises on trade.
Don't promise action on immigration – it's simpler to say nothing.
It is, and it does, and I promise you this: I will see it through.
Now I know you've heard politicians promise this kind of thing before.
That's why we promise to oppose all wasteful spending throughout the EU.
He promised to make Britain "the great global success story of this century".
Won't that sap people's faith in these meetings and the promises that are made?
He promised it when he launched his leadership for the Labour Party two years ago.
I've challenged the Prime Minister about his broken promise at every opportunity.
By signing this pledge, Conservative candidates promise to act on all these fronts.
Because government got too big, promised too much and pretended it had all the answers.
I'm not going to stand here and promise you a country where nothing bad ever happens.
And I make this promise to everyone in Britain: you will not be left on your own in this.